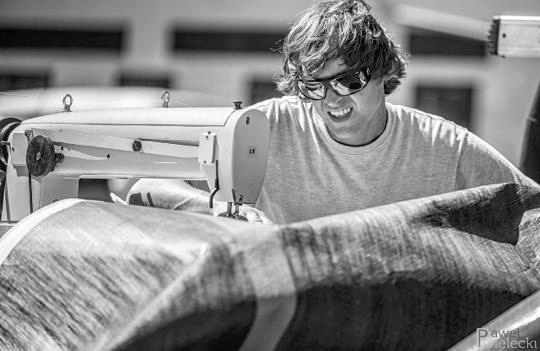 The Loft provides bespoke high quality textile products for the marine industry, specializing in grand prix race yachts and super yachts.
We design and hand make covers and bags for boats from stem to stern, always focusing on style, performance and durability.  All of our solutions are designed and custom made to be the perfect fit.
"My technical knowledge of sailmaking and sailing allow me to provide textile solutions for yachts that not only look fantastic but perform when the pressure is on.
My passion for sailing led me to into a career in sailmaking, which I started as a 13­ year ­old, helping out after school in a small sail loft in New Zealand. Since then I have done 3 America's Cups with Team Alinghi as well as working for various Grand Prix sailing teams, like RAN Racing for 3 seasons and I am currently involved in the Sail GP circuit."
– Brendan Simons (BJ), Owner
Our Technology
Being competitive means innovation. Our sailing equipment goes beyond the traditional and pushes to be faster, stronger and lighter with each iteration; this is what makes us so good at what we do.
Each project has unique requirements and we try to surprise our clients with new technologies to increase performance. Our commitment to providing the best on the market means we sometimes look outside our industry to see what we can apply to own on product to keep it at the forefront.
We work closely with our clients during the design process so that we know exactly what they need. Our attention to detail means that we carefully craft each piece of our products to look and fit perfectly when installed. We use the best suited quality materials, ranging from sail materials like Dyneema™ (formerly knows as Cuben Fibre), 3Di™ and Plastic composite to canvas materials like Weathermax™ and Sunbrella™.